Newsletter
AUGUST
2017...
We have had a busy and fruitful summer both business wise and on the home front.
My art projects have been so much fun and I have been collecting lots of new surfaces. Thankfully, my studio renovation is complete and has made a whole world of difference in finding all the odds and ends involved with all the painting projects (photos of studio are below).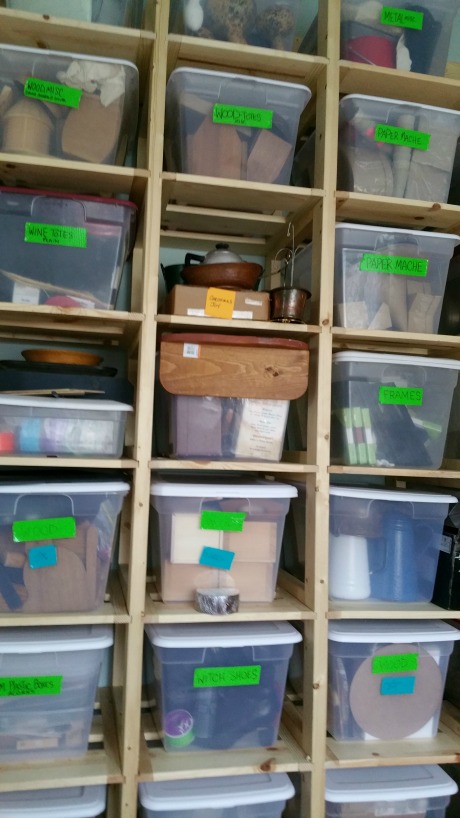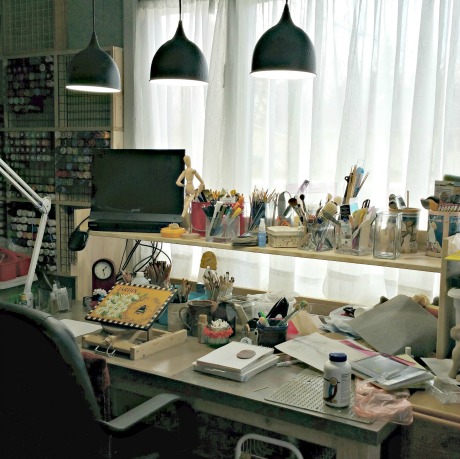 As of this month, I will be adding painted items to my website. These will be one-of-a-kinds and will be from my original designs. They will be listed under a category called HAND PAINTED ITEMS. I hope you take the time to look at these as well as the patterns.
When I am not painting you will most often find me out in the garden. We now have an enclosed 40 x 40 foot vegetable/flower garden with a gorgeous wrought iron arbor gate. I also have added a huge mailbox in front of the garden where I store my garden hand tools. It has been an outstanding year for the garden. (photos below).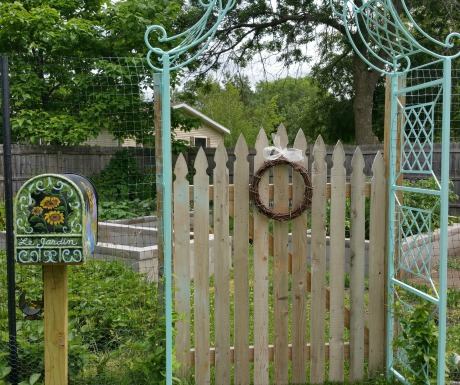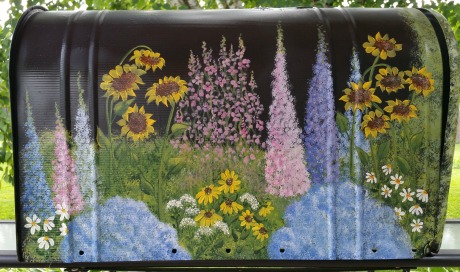 I hope you are all well and taking time to have some fun!
DECEMBER

2016...

Just a brief note, this month I have started offering note cards made from my original designs. I think they really turned out well..note cards for any occasion! Each set includes 6 cards with one design and all are folded and blank on the inside. There are also 6 white envelopes in each packet (sealed in a plastic envelope).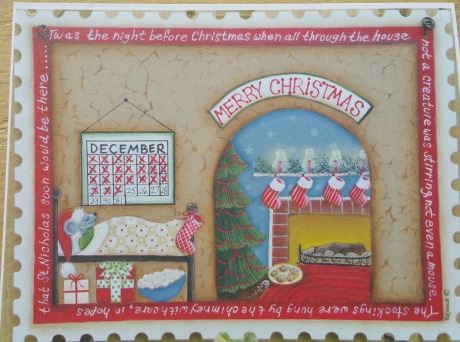 NOVEMBER
2016...
Hmmm...I just noted it has been a while (too long) since my last newsletter. Summer is over, Autumn is fading into Winter and it is Thanksgiving Day! We are getting ready to head out later today to have dinner with our family in St. Paul and are very excited. We now have 3 grandchildren to spoil. Damian Peter arrived in September joining sisters Olivia and Simone. We have so much to be thankful for. I am going to try and be more faithful keeping up with my web site. I have more patterns to add and will be working on those soon (really). My studio is about halfway done and as soon as it is ready, I will post photos. It has gone from having dark brown paneling to a wonderful pale grey green called Contemplation and is so much lighter and brighter. My husband has been my contractor and is doing a superb job. The dimensions are 12 x 16 and one of the 16 ft walls has floor to ceiling shelving and each shelf holds a 55 qt plastic bin. The wall opposite it has a large window and that is where my work table will be. So looking forward to having the space up and running.
Anyway, enough about me...hope you are all well and have a Happy Thanksgiving and that life is treating you well.
JULY 2016.....
I think I am getting the hang of this Newsletter writing. We are in the midst of summer and it has been one heck of a summer..just the right amount of rain, sun and heat and the garden is prospering. I find it hard to stay indoors when it is so gorgeous outdoors and there is a garden to tend. So, I have been sharing my painting time with the garden and that is just the way it is. We fenced in the corner of the garden with deer fence this year and added a wonderful iron arbor and gate. Last year we ended up sharing the garden with the deer and if they had "shared" we would have been happy to share but that was not the case. We sat back and patted ourselves on the back and then realized the bunnies were free ranging inside after chewing through the plastic deer fence, so an extra layer of chicken wire fencing was added to the bottom of the deer fence. This is our last year of straw bales and next year our garden will have cinder block raised bed which we hope to have installed before winter. The border around the inside of the garden has one side of 8 blueberry plants, one side of strawberry plants, one side with a combination of rhubarb, asparagus beds, a lone grape plant and assorted perennials. When the raised beds are up, that leaves us with one side to add plants to. We will not have zucchini in the garden area - take up too much space and they will be joining the pumpkin patch on the other side of the yard. Lots of work but oh so much enjoyment! I will try and get some photos up to share!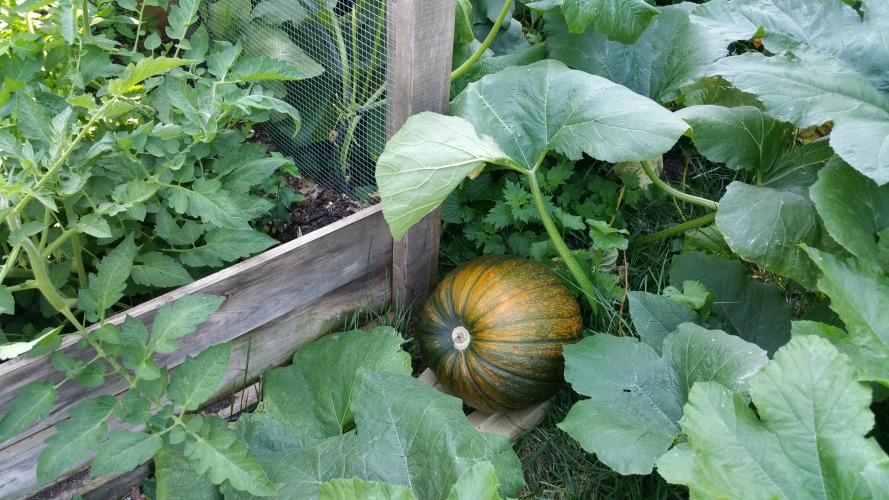 MAY 2015.....

I have been busy creating some "Americana" pieces to post before June 1....I am trying to balance getting some gardening in with the painting. My San Marzano tomatoes arrive the end of this month and hopefully I will have someplace to put them! I love discovering what perennials are popping up around the house - lots of hostas, lily of the valley, peonies and some kind of lilies. I am also trying to plant all the kitchen herbs I love to use. So far I have planted onions (sets given to me by my neighbor, Sharon), asparagus, strawberries, a lilac plant, lavender, basil, parsley (curly and Italian), sage, tarragon, English thyme, mini-carnation, black-eyed susans and oregano...still lots more to do. For our garden we are trying something new, straw bale gardens. The bales are here and have been conditioning them (hopefully correctly). We shall see....
HAPPY NEW YEAR!!! 2015 already...where did 2014 go? That's right...we spent the last month and a half of 2014 moving from Virginia to Minnesota. The move went well and we are unpacked enough for me to start to devote more time and energy to The Sunflower Cupboard. I really do need to get busy painting and designing. Right now the studio is a bit chilly but we are working on that. The new studio is HUGE- 16 x23 and I am sure I can fill it up no problem. I have lots of painting ideas bubbling up and I better get busy doing something with all the ideas. Hope everyone had a very Merry Christmas and that the New Year will bring nothing but joy to one and all.
CH-CH-CH CHANGES - February 2016 After going back and forth with this and that, I have decided to only list my patterns on this website. All of these are E-patterns and are instant downloads meaning when the sale is complete, you will receive a link where you will be able to instantly download the pattern to your computer. I really like the instant gratification of getting the pattern now! You will receive the written instructions, supply list, photos and a line drawing. If you must have a paper copy of this pattern, please email me at thesunflowercupboard@gmail.com and we can discuss this. I have added many new patterns to my website for your review and hopefully you will find something you just must have! I hope you like my designs and will check back periodically as new designs are added frequently.
Thank you for stopping by! Please be sure to add your name to my Guest Book. Happy painting!